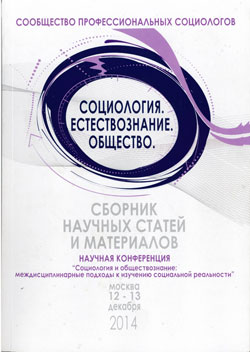 Ilyin V.I.

Sociology. Natural Sciences. Society. Collection of scientific articles and papers of the All-Russian science conference: "Sociology and natural sciences: interdisciplinary approaches to the study of social reality". Moscow, 12-13 December 2014. Edited by Pokrovsky N.E., Doctor of Science in sociology, professor. M: "Community of professional sociologists" ROO, "Variant" Ltd, 2014, pp.: 142-146.

Migrants' networks as a social resource
This article examines the phenomenon of networks as areas of social capital accumulation. When moving to large cities, migrants from small settlements tend to maintain their social networks with their countrymen. These networks exist in two forms. First, new city residents tend to maintain personal connections (particularly in the very beginning). Second, their core friends in the internet networks are their countrymen from the same settlement. This hypothesis was tested by analysing VKontakte social networks performed by the Resource Center for Sociological and Internet Research of the St.Petersburg State University.